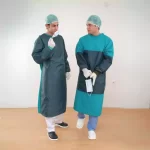 Operation Gown Linen Half Protection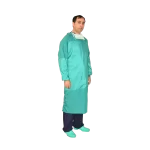 Operation Gown Terikoton Reusable Protection
Operation Gown Terikoton Impertex Protection
Description
The operating room shirt has raglan sleeves.
It can be tied with laces at the collar and waist.
The wrist parts are aesthetic knitted ribs and the entire shirt is made of the same fabric.
The laces are reinforced with a zigzag stitch.
The front part and arms are made of liquid-proof fabric (impertex) and covered with a 134C autoclave resistant protection fabric.
Terrycoton Fabric Feature:
The fabric is 65% polyester 35% cotton.
Weave Density: Weft 34
Related products
Since the product is used as a protector, it is in the size of the mattress of the floor to be protected or in such a […]

Size: 50×70 cm Pu Membrane Coated Fabrics Waterproof, Breathable And Durable Thanks to the thin, flexible and soft membrane, it provides compatibility with your skin and […]

This doctor's coat is made of Alpaca (185 g/m2) fabric. 35% Viscose, 65% Polyester. Cloth is knitted.