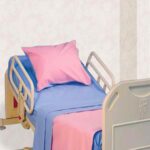 Hospital Medical Linens Sets 1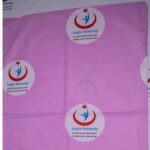 Hospital Medical Linens Sets – 3
Hospital Medical Linens Sets – 2
Description
Hospital Emblem, Logo Printing
Duvet Cover Set 160×230 cm
Bed sheet: 160×240 cm
Pillowcase 50×70 cm
100% Cotton
Shrinkage allowances are pre-set.
Woven with 30/1 combed yarn, 64 wire/cm2 density, Optical White, Gaza, Calender and Mercerized.
All white fabrics have passed Peroxide Bleaching process.
Sanforizing process is available on all our fabrics.
Shrinkage after sanforizing is around 2%-3%.
Mouth seams have 4 stitches per centimeter to prevent shrinkage and shrinkage after washing.
Inner seams are cleaned with 5 thread over-lock.
Note Special logos are made for institutions.
Related products
Production in different sizes 160 TC Ranforce Fabric Thread Count: 160 TC – 33 Warp 30 Weft Thread: 30/1 Warp: 30/1 Grams: 125/m² Weaving: 1/1 Sanforizing […]

The fabric is 100% cotton and has a plain weave Fabric Weft density 21+-2 pcs/cm warp density 42+-2 pcs/cm The m2 weight of the fabric: 200 […]

Production in different sizes 1210 TC %100 Cotton Satin Thread Count: 210 TC – 51 Warp 32 Weft Thread: 40/1 Warp: 40/1 Grams: 125/m² Weaving: 4/1 […]