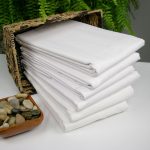 Sheet 160 TC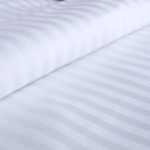 Sheet Satin Striped 300 TC
Sheet Satin Striped 210 TC
Description
210 TC %100 Cotton Satin
Thread Count: 210 TC – 51 Warp 32 Weft
Thread: 40/1
Warp: 40/1
Grams: 125/m²
Weaving: 4/1
Sanforizing process is avaible in all fabrics.
The seams have a 4-stroke spacing per centimeter to prevent shrinke after washing.
Optic white, Gaza, Calender and Mercerized.
All white fabrics have undergone Peroxide Bleaching.
Sanforizing procress is avaible in all our fabrics.
It is 2% – 3% traction after sanforizing.
All of our products are indantren dyed.
If the instructions for use are followed, the product will not turn yellow until the end of its economic life.
Usage Instruction:
It should be washed at 60°C maximum.
Mechanical movement normal.
Rinse normal.
Centrifugal normal.
Whitening and stain removal cannot be done with chlorine.
Ironing is done with an iron with a maximum temperature of 200 °C on the sole plate.
Dry cleaning is not applied.
It is not permissible to remove stains with solvents.
Drum drying is not applied.
Related products
Operating room boxing shirt has raglan sleeves. It can be tied with laces at the collar and waist. The wrist parts are aesthetic knitted rib and […]

Duvet Cover: 160×220 cm Thread Count: 300 TC – 53 Warp 67 Weft Thread: 40/1 Warp: 60/1 Grams: 140/m² Weaving: 4/1 Fabric: % 100 Cotton Satin […]

210 TC %100 Cotton Satin Thread Count: 210 TC – 51 Warp 32 Weft Thread: 40/1 Warp: 40/1 Grams: 125/m² Weaving: 4/1 Sanforizing process is avaible […]