Sheet 145 TC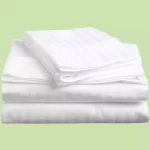 Sheet Satin Striped 210 TC
Sheet 160 TC
Description
30/1 Ring yarn.
Fabric: % 100 cotton
Thread Number: Ne 30/1 x 30/1
Thread Count: 160 TC
Color: Optic White.
Our products are produced in high quality suitable for industrial use.
Usage Instruction:
It should be washed at 60°C maximum.
Mechanical movement normal.
Rinse normal.
Centrifugal normal.
Whitening and stain removal cannot be done with chlorine.
Ironing is done with an iron with a maximum temperature of 200 °C on the sole plate.
Dry cleaning is not applied.
It is not permissible to remove stains with solvents.
Drum drying is not applied.
Related products
Different Sizes 100% cotton It weighs 315 gr/m2.

Thread Count: 300 TC – 53 Warp 67 Weft Thread: 40/1 Warp: 60/1 Grams: 140/m² Weaving: 4/1 Fabric: % 100 Cotton Satin 60/1 Combed Yarn 300 […]

Production in different sizes 160 TC Ranforce Fabric Thread Count: 160 TC – 33 Warp 30 Weft Thread: 30/1 Warp: 30/1 Grams: 125/m² Weaving: 1/1 Sanforizing […]