Duvet Cover Satin Striped Twin 300 TC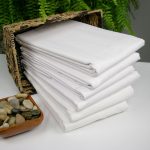 Sheet 160 TC
Sheet 145 TC
Description
30/1 Ring yarn.
Fabric: % 100 Coton.
Thread Number: 30/1 x 30/1
Thread Count: 145 TC
Color: Optic White
Our products are produced in high quality suitable for industrial use.
Operating Instructions:
Operating Instructions:
Maximum washing temperature 60°C
Mechanical movement normal.
Shaking is normal.
Centrifuge normal.
Whitening and stain removal cannot be done with chlorine.
Ironing is done with an iron with a maximum temperature of 200°C on the soleplate.
Dry cleaning is not applied.
Stains cannot be removed with solvents..
Related products
Production in different sizes 145 TC Ranforce Fabric Thread Count: 145 TC – 33 Warp 24 Weft Thread: 30/1 Warp: 30/1 Grams: 115/m² Weaving: 1/1 Sanforizing […]

Different Sizes %100 Cotton Warp: 20/2 Ring Yarn Weft: 10/2 Ring Yarn Weave: 22 Warp 15 Weft Our pique, produced from 20/2 warp, weighs 315 gr/m2.

Size 155×215 – 195×215 – 235×215 cm Different Sizes Can Be Produced Gram: 350 Gr/m² Own fabric with bias binding Fabric: 100% Cotton, 60 Wire Hasse […]