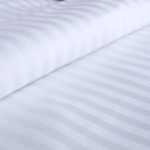 Sheet Satin Striped 300 TC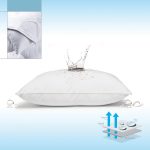 Pillow Protector
Plain Satin Sheet 300 TC
Description
Customized Sizes
Fabric type: 100% Cotton Plain Satin
Yarn count Ne 60/1 x 40/1
Yarn density: 120 strands/cm2 – 300 TC
Woven weave Patternless
Color: Optical white
Finishing Enzyme
The purchasing criteria for sheets are thread count and finishing.
The specified wire counts are the number of yarns in 1 cm².
Our products are manufactured with high quality suitable for industrial use.
Related products
30/1 Ring yarn. Fabric: % 100 cotton Thread Number: Ne 30/1 x 30/1 Thread Count: 160 TC Color: Optic White. Our products are produced in high […]

Since the product is used as a protector, it is in the size of the floor to be protected or in a way that it completely […]

Towel: 30×30 cm 40 Gr Different weights can be produced 30×30 White face towel. Face towel is produced in high quality in accordance with industrial use. […]