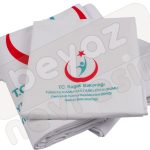 Hospital Ministry of Health Logo Duvet Cover Set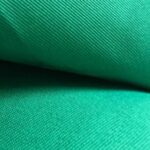 Operating Room Gabardine Fabric
Operating Room Green Linen Fabric
Description
The fabric is 100% cotton and has a plain weave
Fabric Weft density 21+-2 pcs/cm warp density 42+-2 pcs/cm
The m2 weight of the fabric: 200 g+-10 grams.
Width of the fabric: 150+- centimeters.
The fabrics are free of defects such as tears, punctures, weft or warp leaks, warp or weft bands and stains.
The fabric color is green.
The fabric is dyed with indraten (cube dyestuff). It has not been weighted with heavyeners, it is autolova resistant.
PH value of the fabric is between 5-7.5 (according to TS EN ISO 3071)
According to TS 392 EN 25077, the size change of the fabric after washing is maximum 2% in weft direction and maximum 3% in warp direction.
The breaking strength of the fabric is at least 690N in warp direction and at least 270N in weft direction according to TS EN ISO 131934-1.
Fabrics are delivered in folded pieces of 50 meters and covered with nylon packaging so that each package consists of a single
Each fabric package contains cards showing the fabric type and meter.
Related products
Different Sizes 100% cotton It weighs 315 gr/m2.

The upper upper of this product is made of artificial leather and the sole is made of polyurethane. Eco lady 7 Point Sabos (35 47) Features […]

Operating room boxing shirt has raglan sleeves. It can be tied with laces at the collar and waist. The wrist parts are aesthetic knitted rib and […]